Turmeric Curcumin with Bioperine
Turmeric
Turmeric has been used for thousands of years as a powerful anti-inflammatory and pain killer, and is one of the most frequently mentioned medicinal herbs in all of science.
At Go Pure Labs, we have capsulated an extremely potent turmeric curcumin (the main ingredient in turmeric), and combined it with Bioperine, a black pepper extract which has shown to increase the absorption of turmeric in the stomach.
If you have joint issues, arthritis or suffer from stomach pain, diarrhea, intestinal gas, liver problems, gallbladder disorders or any other disease known to occur when inflammation occurs in the body, this turmeric supplement might be your best solution.  
How does it work:
Taken every day, our formulation of turmeric curcumin with Bioperine may be used to combat pain and inflammation, naturally.  
When you buy Turmeric Curcumin with Bioperine from Go Pure Labs, you receive:
A product containing zero fillers, binders or artificial ingredients.
1300mg of turmeric.
Bioperine, to increase absorption.
Veggie capsules.
A product manufactured in the USA at FDA inspected and GMP approved facilities.
Ingredients & Serving Size
As a dietary supplement take two (2) veggie capsules once a day. For best results take 20-30 min before a meal with an 8oz. glass of water or as directed by your healthcare professional.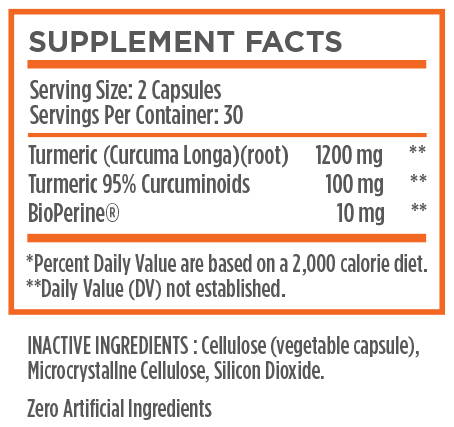 ---
* Product statements have not been evaluated by the FDA. Products are not intended to diagnose, treat, cure, or prevent any disease.  
* Individual results may vary
Customer Reviews
MGUS
numbers
labs
research
anything
growth
myeloma
concern
people
cancer cells
02/25/2019
Anonymous
United States
Tumeric
so far I am very please with the product, I have MGUS which is an abnormal M-Protein if my labs reach 3000 it turns into multiple myeloma. my numbers were 2013 they were concern, I ask if there was anything I could do to bring down the numbers because once it reached 3000 I would have to start some kind of cancer treatment. They said no, so I found a research where they used turmeric and it said it helped 1 in 5 people to stunt growth on cancer cells. You see my numbers have not gone down since 2013 they keep going up, well needless to say I ordered turmeric took it for a whole month before I had to repeat my labs. When I went to the doctor's office to see about my labs I could not believe it my numbers went down from 2013 to 1835 a difference of 178, WOW I was very impressed my numbers have never gone down. So I ordered more my second order, I sure hope this continues to work Thank You Tina Turner
11/19/2017
Brenda J.
United States
Turmeric Curcumin 2 pack
Turmeric Curcumin 2 pack was an excellent purchase. The delivery was quick.
Related Items