Omega 3 Fish Oil Pure 60 Ct.
Are you looking for a high-quality Omega 3 supplement that contains a concentrated dose of the essential fatty acids? If so, the Omega-3 Fish Oil Softgel Pure supplements may be for you. Fish oil is a common dietary supplement derived from fatty fish. Go Pure Labs Omega-3 Fish Oil contains high amounts of the omega-3 fatty acids EPA (eicosapentaenoic acid) and DHA (docosahexaenoic acid). EPA and DHA have numerous roles in the body and are primarily responsible for the health benefits of fish oil consumption. These nutrients are important for maintaining a healthy brain and nervous system, contributing to a healthy heart and joint flexibility.
Extensive clinical and epidemiological research has revealed numerous health benefits of EPA and DHA.
Our brand of Omega-3 fish oils are manufactured from 100% pure sea harvested pelagic fish oil as a source of essential fatty acids. Oily fish generally swim in mid-waters or near the surface (the pelagic zone). Oily fish are a good source of Vitamins A and D as well as being rich in Omega 3 fatty acids.
What benefits can occur from taking Omega-3 Fish Oil Softgel Pure?
DHA supports the maintenance of vision and normal brain function, and the beneficial effect can be obtained with a daily intake of 250mg of DHA. When 250mg of DHA is taken with 250mg of EPA, it also contributes to normal heart function.

Omega-3 fats may improve your immune system.

Promotion of blood circulation, cellular vitality, and overall health and wellness.

Because our modern diet is loaded with Omega-6 (meat and vegetable oils) it is important to supplement with extra Omega-3, rich in EPA and DHA content.
Go Pure Labs Omega-3 Fish Oil contains:
100 percent pure sea-harvested pelagic fish oil, high in EPA and DHA

Concentrated essential fatty acids: 432 mg active EPA, 288 mg DHA & 720 mg total Omega-3 fatty acids, per 1 softgel capsule.

Rapid release and easy to swallow soft gel capsules.

This pelagic Omega-3 Fish Oil softgel is manufactured under strict quality control standards.

This, pure fish oil provides adequate quantities of essential fatty acids.

A product containing zero fillers, binders or artificial ingredients.

A product manufactured in the USA at FDA inspected and GMP approved facilities.
---
Ingredients & Serving Size
SUGGESTED USE: As a dietary supplement, take one (1) softgel, 2 - 3 times daily with meals.Always consult your primary care physician before taking any supplement or medication.
WARNING: Do not exceed recommended dose. Pregnant or nursing mothers, children under the age of 18, and individuals with a known medical condition should consult a physician before using this or any dietary supplement.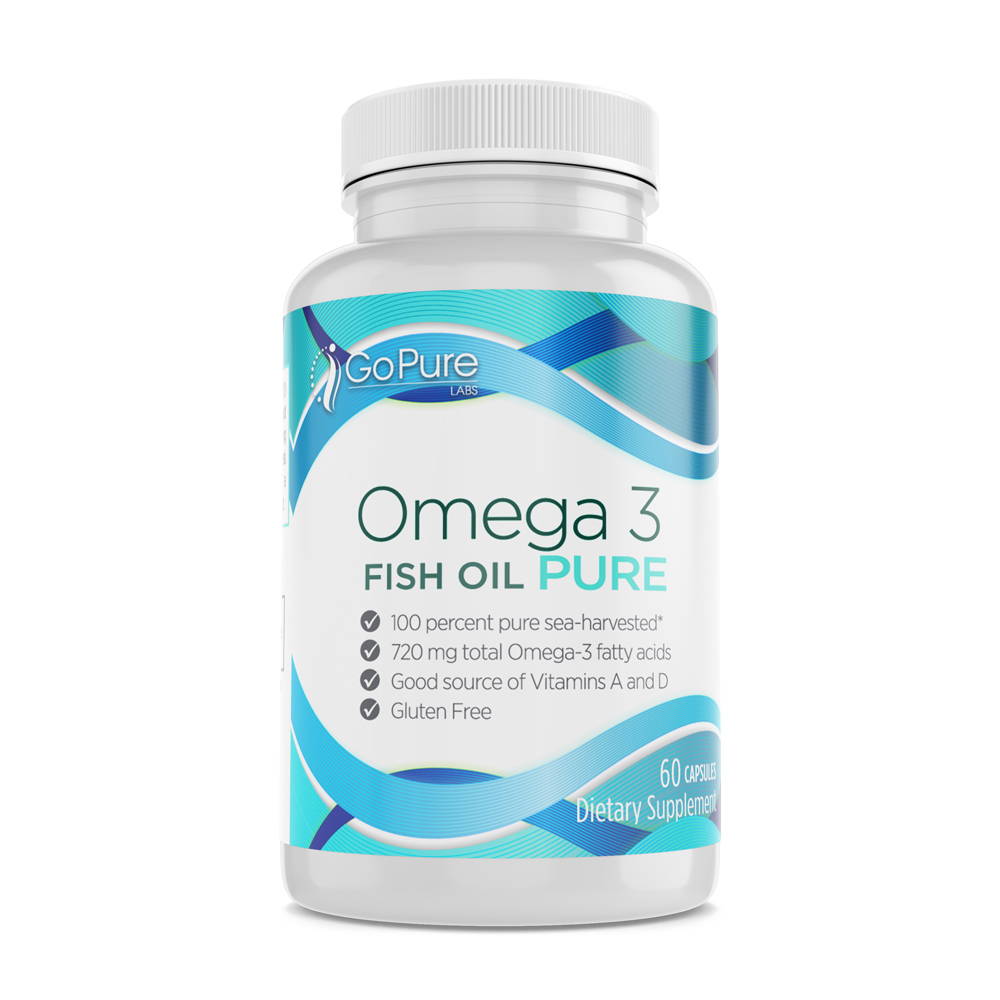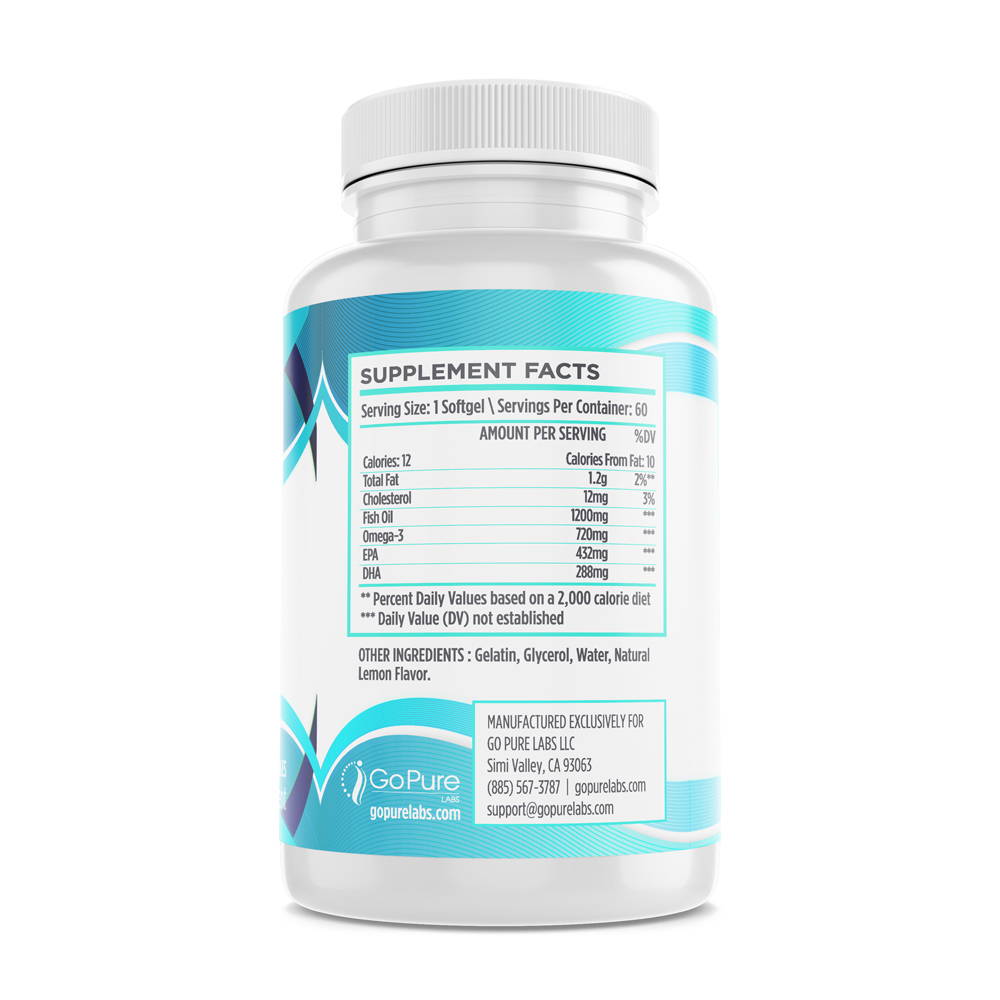 * Product statements have not been evaluated by the FDA. Products are not intended to diagnose, treat, cure, or prevent any disease.
* Individual results may vary
Customer Reviews
shipment
quality
Ingredients
02/16/2019
Sean S.
United States
Quick shipment and quality ingredients
Ordered direct from Go Pure LABS, shipment came quickly. Ingredients are high quality. I will be ordering from them again.
05/08/2018
Richard C.
United States
Great product!
It does not have a fishy after taste or smell. Will order again.
04/10/2018
Whittney S.
United States
Bomb
Sounds gross but I love thatbthese don't make me burp up fish! Love this brand!
Related Items