Oxy Burn - Super Fat Burner - 60 ct.
Sold Out $10.00 USD
Oxy Burn - Super Fat Burner - 60 ct.
Oxy Burn
Are you looking to increase your attention and concentration, while at the same time giving your body the nutrients it needs to effectively cut fat and maintain high energy levels? Go Pure Lab's Oxy Burn – Super Fat Burner, was developed with that in mind, and includes natural ingredients that have been used by individuals searching for a high quality thermogenic and lipogenic fat burning supplement, with plenty of additional benefits.
Our proprietary blend has been used by customers looking for a supplement that can help boost energy, improve heart health, increase muscle strength, boost metabolism, suppress appetite and improve mental focus.*
How does it work:
Go Pure Labs Oxy Burn – Super Fat Burner incudes natural ingredients known to stimulate the mind and body. In addition to a blend of supplements specific to energy and focus, and a Thermogenic blend, our product contains Yohimbe Bark, a natural ingredient found in studies on fat burning.*
When you buy pure Go Pure Labs Oxy Burn from Go Pure Labs, you receive:
A product containing zero fillers, binders or artificial ingredients.
A proprietary blend of 100% natural ingredients to help your entire body and mind feel energized and focused. *
A formula that can aid in improving cardiovascular health and stimulate blood circulation. *
A product manufactured in the USA at FDA inspected and GMP approved facilities.
Ingredients & Serving Size
As a dietary supplement take one (1) capsule in the morning. Do not exceed two (2) capsules in a 24-hour period. Do not take past 4 PM. Use for no longer than 8 weeks straight, followed by an off period of at least 2 weeks before resuming use. *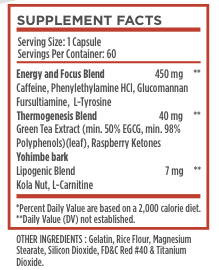 ---
* Product statements have not been evaluated by the FDA. Products are not intended to diagnose, treat, cure, or prevent any disease.  
* Individual results may vary
---
Related Items