Conjugated Linoleic Acid - 60 ct.
Conjugated linoleic acid CLA
Conjugated linoleic acid (CLA) is a polyunsaturated fatty acid that is thought to play a role in reducing body fat, building and retention of lean muscle mass and improving exercise performance.
Go Pure Lab has developed a CLA that is a potent anti-oxidant, anti-carcinogen and anti-catabolite that may be beneficial to anyone trying to lose weight, reduce bad cholesterol and triglycerides, lower insulin resistance and enhance their immune system. For years, CLA supplementation has been popular with athletes, nutritionists and fitness experts for its potential as a weight loss and energy enhancing supplement.
How does it work:
Studies have found that, when used in conjunction with a regimented plan of diet and exercise, CLA may help to reduce body fat, increase muscle strength and exercise endurance, helping both men and women lose weight. CLA has been shown to help with weight loss by increasing basal metabolic rates, helping the body convert food more efficiently into energy.
When you buy pure CLA from Go Pure Labs, you receive:
A product containing zero fillers, binders or artificial ingredients.
CLA using 100% pure safflower oil, premium quality throughout, extracted from trusted, non–GMO sources. Guaranteed non-GMO and gluten free.
A product manufactured in the USA at FDA inspected and GMP approved facilities.
Ingredients & Serving Size
Take one (1) softgel two (2) times daily with food.Always consult your primary care physician before taking any supplement or medication.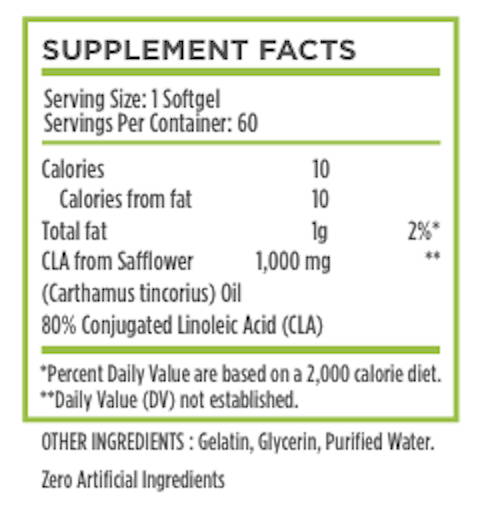 ---
* Product statements have not been evaluated by the FDA. Products are not intended to diagnose, treat, cure, or prevent any disease.  
* Individual results may vary
Related Items