Transformation Diet Drop Pure - 2 oz.
Transformation Diet Drop
Our best-selling product for years, Go Pure Lab's Transformation Drops are known to trigger the body to release and mobilize any extra fat your body is carrying to use as an energy or food source. We made changes to the label on this top selling product. It is now being sold under our Skinny Transformation Drops label. The formulation is the exact same. We have just updated the graphics and name on the label. You can find it here at Skinny Transformation Drops
Combined with the Transformation Diet, these drops have helped thousands of people lose weight for the past 50 years, by making up the difference in the calories it needs to function by using stored fat as food. As a result, customers have been known to burn fat at a quicker rate, and from areas in the body that are typically harder to reduce.
How does it work:
Ingredients in Transformation Drops can diminish hunger cravings and desires to snack between meals.

Contains African Mango, a natural ingredient known for dramatic weight loss and belly fat reduction in completed studies.
When you buy Transformation Drops from Go Pure Labs, you receive:
A product containing no artificial ingredients.

Easy to use homeopathic drops that go directly under your tongue. Drops that are hormone free.

A product that is all natural and gluten-free.

A formula known to convert fat into nutrients without loss of muscle.

Free downloadable diet guides with every order.

A product manufactured in the USA at FDA inspected and GMP approved facilities.
Ingredients & Serving Size
As a dietary supplement. Take 1ml (approx. 20 drops) under your tongue three times per day 15 minutes prior to eating or as recommended by your health care professional.  
Always consult your primary care physician before taking any supplement or medication.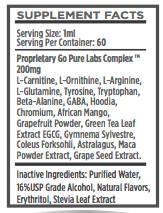 ---
* Product statements have not been evaluated by the FDA. Products are not intended to diagnose, treat, cure, or prevent any disease.  
* Individual results may vary
Customer Reviews
05/06/2019
Anonymous
United States
It okay
It's okay .. it does work but I'm almost out it hasn't been month ! But I do like it !
03/05/2019
Anonymous
United States
Drops
I like them but I was wondering if you have hch drops as well for weight loss?
01/29/2019
Charlotte R.
United States
diet drops
I have been using this product for over a week. I can such a difference already. I'm not as swollen and puffy any more. The weight is starting to come off. Thank you so much.
Related Items