Garcinia Cambogia Liquid Pure - 2 oz.
 Garcinia Cambogia
Weight-reduction experts have for years been excited about Garcinia Cambogia, Mother Nature's answer to weight loss, and healthy living.
Garcinia Cambogia is a citrus fruit grown in Southeast Asia and India and contains a key ingredient, hydroxycitric acid (HCA), which is extracted from the fruit's rind.
In our pure Garcinia Cambogia liquid drops, we have taken our best-selling Garcinia Cambogia extract and added the power of 15 other key weight loss ingredients to give you a solution for quick and easy weight loss.
How does it work:
HCA is known to block a portion of an enzyme called citrate lyase, which helps turn sugars and starches into fat. By blocking this enzyme, carbohydrates are diverted into energy production, rather than accumulating as body fat.
Go Pure Labs uses the highest quality of Garcinia Cambogia extract, which is known to suppress your appetite, thus reducing caloric intake.
Many weight-loss experts claim that pure Garcinia Cambogia can increase the levels of HDL cholesterol (good cholesterol) and lower LDL cholesterol (bad cholesterol), triglycerides and serum leptin.*
As seen on Dr. Oz, Garcinia Cambogia can also increase levels of serotonin, enhancing your mood and end so called "emotional eating," which often results from depression, migraine headaches and insomnia.
When you buy pure Garcinia Cambogia liquid extract from Go Pure Labs, you receive:
A product containing zero fillers, binders or artificial ingredients.
200mg of Garcinia Cambogia extract per serving, included in our proprietary blend containing 15 additional effective weight-loss ingredients (including Maca powder, Guarana, African Mango and EGCG), per serving.
A product manufactured in the USA at FDA inspected and GMP approved facilities.
---
Ingredients & Serving Size
As a dietary supplement. Take 1ml (approx. 20 drops) under your tongue twice per day 15 minutes prior to eating or as recommended by your health care professional.  
Always consult your primary care physician before taking any supplement or medication.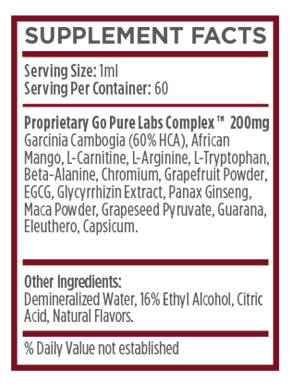 ---
* Product statements have not been evaluated by the FDA. Products are not intended to diagnose, treat, cure, or prevent any disease.  
* Individual results may vary
Related Items