Ultra Testosterone Support Pure 90 Ct.
Testosterone is an androgenic sex hormone produced by a man's testicle. While testosterone is stereotypically associated with virility, it also plays a role in maintaining muscle mass, bone density, red blood cells and a general sense of wellbeing. As men age, their testosterone levels begin to decline. Unless you proactively change your lifestyle, the levels will continue to decrease over time. In addition to age, chemical exposures, including prescription drugs like statins, can also have an adverse effect on testosterone production. Symptoms of declining testosterone levels include a decreased sex drive, erectile dysfunction, depression, weight gain and difficulties with concentration and memory. In men, it is possible to replace testosterone with a booster. These boosters can help in the production of his natural male hormone, resulting in an increase in muscle size, the reduction of body fat, quicker recovery and an increased libido.
Go Pure Labs Ultra Testosterone Support Pure contains natural vitamins, minerals and herbs to help boost testosterone levels. This includes Tribulus Terrestris, long used in the supplement industry as a testosterone support ingredient, helping optimize natural levels of testosterone within the body's natural limits.
What benefits can occur from taking Natural Testosterone Support Pure?
Muscle growth.
Testosterone production support.
Enhanced bodybuilding results.
Mood improvement.
When you buy Ultra Testosterone Support Pure from Go Pure Labs, you receive:
a blend of vitamins and minerals, including Magnesium and Zinc.

an herbal combination of Tribulus Terrestris, Chrysin, Horny Goat Weed, Longjack, Saw Palmetto Berries, Hawthorn Berries and Cissus Quadrangularis.

Easy to swallow veggie capsule.

A product containing zero fillers, binders or artificial ingredients.

A product manufactured in the USA at FDA inspected and GMP approved facilities.
---
Ingredients & Serving Size
SUGGESTED USE: As a dietary supplement take three (3) capsules before bedtime or as directed by your healthcare professional.
CAUTION: Consult with a physician prior to use if you have any medical conditions. Do not use if pregnant or lactating.
Always consult your primary care physician before taking any supplement or medication.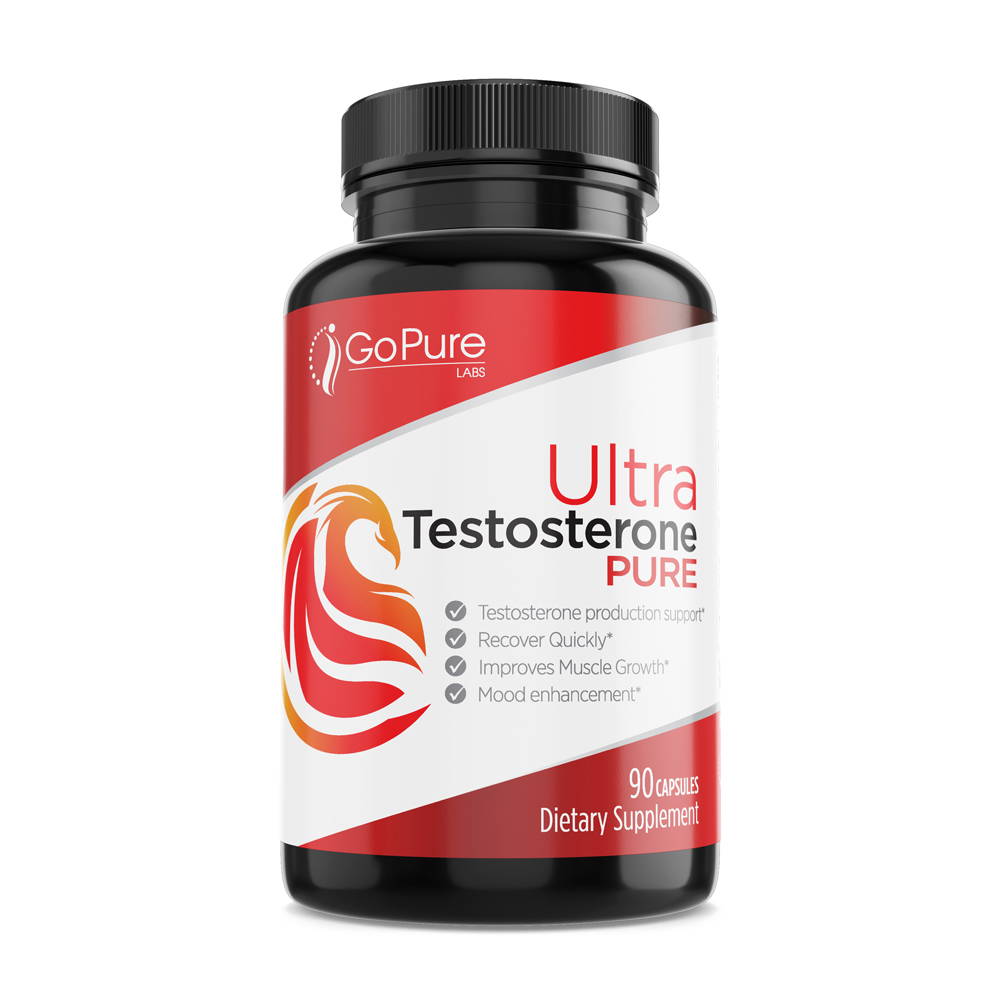 ---
* Product statements have not been evaluated by the FDA. Products are not intended to diagnose, treat, cure, or prevent any disease.  
* Individual results may vary
Customer Reviews
fingers
stomach
man boobs
difference
Ingredients
04/05/2019
Anonymous
United States
Very good product
Very good product
03/06/2019
Anonymous
United States
Weightloss Journey
I have yet to see a major difference I have only been taking it for 1 week & 1/2. It's all natural ingredients so fingers are crossed on getting rid of these man boobs and pudgy stomach.
Related Items